The Rays locked up home field advantage throughout the AL playoffs on Sunday, with a win against the Royals, or with the Yankees' loss earlier in the day, depending on how you want to look at it. They're going to need it, too, because this Rangers team is no slouch. They were 4th in the AL in run scoring, though they got a little help from their ballpark.

Josh Hamilton leads the team in most offensive categories, capping his Cinderella story by winning a batting title and returning from a rib injury in time for the playoffs. Vladimir Guerrero bounced back from an off season in 2009 to post a traditional line of .300/29/115, though that belies the somewhat pedestrian .278 with 9 homers he hit after the All-Star Break. Mike Young and Nelson Cruz each hit over 20 homers, but the lineup gets pretty power-starved after that, as nobody but David Murphy has more than nine.




Murphy only hit 12, and only did that because he got a lot of playing time when Cruz and Hamilton were missing half a season's worth of games between them . Ian Kinsler's not a bad hitter, getting on base at a .382 clip, but both his extra base hits and his steals were essentially cut in half compared to last year. Center fielder Julio Borbon and shortstop Elvis Andrus are both defense-first singles hitters. Andrus may be slick with the glove, but his .301 slugging percentage would be dead last among the 149 players who qualified for a batting title this year if it weren't for the fact that Caesar Izturis is still employed.

The Rangers' catching corps (Matt Treanor and Bengie Molina) are singles hitters who don't even hit singles anymore, ranking third from the bottom among MLB catchers in OPS. The Rangers struggled all season to field a decent first baseman, as their composite OPS ranks 4th from the bottom, though Mitch Moreland's .833 OPS would rank 12th, which isn't horrible.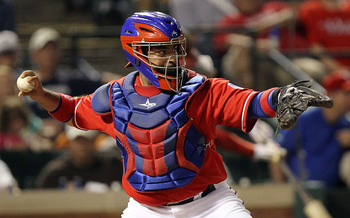 Overall they manage to score runs on the strength of their team batting average, which led the majors, and their speed, as they have five different players with double digit steals. Andrus also got caught 15 times to go with his 32 steals, so he does as much harm as good in that regard, but their opponents certainly can't forget about the stolen base.


And for once their pitching was actually really solid too.

For all the hoopla over Philadelphia's Big 3 Starters, the Rangers' trio of Colby Lewis, C.J. Wilson and Cliff Lee was excellent as well and is unmatched in the Junior Circuit. They combined for 39 Wins (including Lee's efforts in Seattle), a 3.41 ERA, 551 strikeouts and only 173 walks in 617 innings. And unlike Philly, the Rangers' #4 starter is actually pretty good. Tommy Hunter went 13-4 with a 3.73 ERA overall including 7-0 with a 3.06 ERA at home. they'll throw him in Game 4 in Arlington, playing to his strength.

The Bullpen is great, too, led by flamethrower Neftali Feliz and his 40 Saves, and with a composite 3.38 ERA that was second in the American league. If the starters falter, the bullpen should be able to keep them in the game long enough for Hamilton, Young or Cruz to do something special.




The trouble for Texas is that almost everything they're good at, Tampa is even better.

The Rangers' bullpen ERA of 3.38 is secondin the AL...to Tampa's 3.33. Their 46 Saves are second to Tampa's 51. Texas has four starting pitchers who won at least a dozen games (including Lee's work in Seattle)...but Tampa has five. Their pitchers struck out more batters than all but three teams in the AL...but one of them was Tampa. The Texas offense was 4th in Runs Scored...but Tampa was 3rd. The Rangers stole 123 bases, at a success rate of 71%, more than any other playoff team...except Tampa, who stole 172 bases at a 79% clip.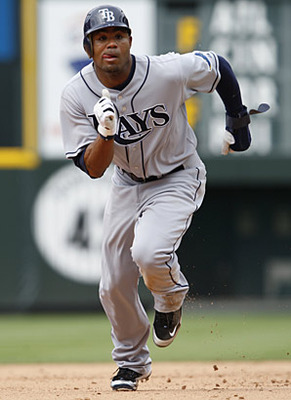 The Rays' starting pitching, while not exactly a weakness in the playoffs, is kind of an unusable strength. They don't need five starters, and maybe don't even need four, depending on how things shake out, so Jeff Niemann will likely waste away in the bullpen unless they're in a blow-out. The Atlanta Braves of the mid 1990s had similar experiences, winning only one championship despite 14 trips to the playoffs, largely because they didn't need the 5th starter that had helped them pad their regular season records.




Their offense reminds me of the so-called "Hitless Wonders", the White Sox who beat the heavily favored Cubs in the 1906 World Series despite a team batting average of .230 that was last in the AL. The Rays hit .247 as a team, 4th worst in baseball, but scored the 3rd most runs on the strength of their patience and speed, as they ranked first in both walks and steals, and hit some home runs.

Unfortunately for Tampa, Evan Longoria had a quadriceps injury that sidelined him for most of the last two weeks of the season, and nobody really knows how well he's going to bounce back. If he's not 100%, or if he re-injures the leg, the Rays will have a hard time producing enough to keep up with Texas.




If there's a ray (rimshot!) of hope for the Rangers, it's that the team they're running out there today is not exactly the one that lost four of six games to Tampa in the regular season. They averaged more than five runs per game in those six contests, but their pitchers allowed almost seven runs per contest.

Fortunately for Texas, two of those four losses were suffered by Rich Harden and Derek Holland, who don't figure largely into the Rangers' playoff plans. In fact, 18 of the 40 runs they allowed to Tampa in the regular season were surrendered by pitchers who either aren't on the post season roster (Chris Ray, Frank Francisco, Pedro Strop, Rich Harden) or who now have greatly reduced roles (Holland). Unfortunately for Texas, Lee and Wilson did not pitch well even in the two games they won, so hopefully those uncharacteristic performances won't be repeated.




The key for the Rangers will be to keep the Rays off the basepaths, which won't be easy, given how patient the rays are and the fact that the Rangers walked the 7th most batters in MLB. The Rays may not be able to hit their way to a win in this series, but they could potentially walk - and run - to victory.

My prediction is that the Rays will win it in four, unless Longoria is injured or doesn't hit.