Sorry for the long layoff. I was on a mission trip with my church last week and was catching up on stuff this week.

A few random thoughts and observations while wondering if anyone knows anything about where Randy Johnson might end up...

On the (lack of) Big Trades...

I think we may have gotten a little spoiled during the last few seasons, when a lot of good and/or overpaid players on bad teams all happened to be in the last years of their contracts. The months of June and July in 2000 saw David Justice, Denny Neagle, Andy Ashby, Todd Walker, Esteban Loaiza, Glenallen Hill, Curt Schilling, Richie Sexson, Bob Wickman, Charles Johnson, Melvin Mora, B.J. Surhoff, Will Clark, Steve Trachsel, Rondell White, Henry Rodriguez, Mike Timlin and others. The 2002 trading season saw Bartolo Colon, Jeff Weaver, Raul Mondesi, Cliff Floyd, Chuck Finley, Ray Durham, Terry Mulholland, Scott Rolen, Ismael Valdes, Tom Gordon, and Shawn Estes change sides, among others. Last year, Ruben Sierra, Rickey Henderson, Ugueth Urbina, Carl Everett, Jeromy Burnitz, Shannon Stewart, Kenny Lofton, Jose Hernandez, Aramis Ramirez, Armando Benitez, Scott Williamson, Jose Guillen, Sidney Ponson, Aaron Boone, and Robin Ventura all finished the season wearing a different uniform from the one in which they started the season, to name a few notables.

This year? Kris Benson. B-F-D.

Don't get me wrong, he's not a bad pitcher, but if The Big Unit stays put, Steve Finley won't just be the biggest star traded in July 2004, he'll be the only one. I don't know what this means, but hopefully it's an indication that General Managers aren't making as many silly mistakes as in the past, and therefore are not forced to trade players to cut salary if they're out of the race by late July. Or it could just be coincidence, and next year we'll have another dozen or so "big name" players sent packing before the trading deadline.

What's Wrong With the Yankees?

Well, in simple terms, they're hurt. Their starting Firstbaseman, Jason Giambi, has an intestinal parasite so rare that weaker people die from it. One of their starting pitchers, Kevin Brown, had the same parasite, and a strained back, and will start tonight (July 30) for the first time since June 9th. Another starting pitcher, Mike Mussina, has missed more than three weeks with a sore elbow, and probably won't be back for at least three more. Oh, and when Moose was healthy, he stunk. Orlando Hernandez won't be doing any of his patented high leg-kicks for a while, having strained a hamstring Tuesday night. Not many teams can afford to lose three starting pitchers, especially ones of the caliber of Mussina, Brown and El Duque, and still succeed over the course of the season.

The Giambi parasite is certainly a drag on the offense, but the Yankees have six other all-Stars in the lineup and a decent bench to help pick up his slack, whereas the starting pitchers' injuries have been that much tougher to take because no onein the rotation is really doing all that well. Javier Vasquez has 11 wins and was named to the AL All-Star team, but he also has an ERA over 4.00 and hasn't strung together more than three straight quality starts yet this year. Jon Lieber's coming off Tommy John surgery and doesn't exactly strike fear into the hearts of, say, the Diamondbacks, Tigers, Devil Rays or Mariners, none of which is known for its offensive prowess and all of which have beaten him this year. Hernandez's hamstring may be OK with some rest, but don't bet on his 2.37 ERA staying that low for long. The Yanks really need Moose and Brown, two potential Hall-of-Famers, to come back healthy and pitch like potential Hall-of-Famers down the stretch and in the playoffs, if they want to keep playing deep into October. Oh, and they need Randy Johnson, but that's looking increasingly like it's not gonna happen.

What's Wrong With the Phillies?

The Phightin' Phils currently have a 52-50 record, which ties them with the reigning Champions of Ridiculously Good Luck, the Florida Marlins for second place in the NL East, 3.5 games behind the Braves. If you look at the grid that shows the teams' records against each other, you can see that the Phillies have a .500 or better record against all but 4 teams, and are within one game of a .500 record against all but two teams.

The Phils are 6-7 against the Braves, basically holding their own in those competitions, with six games left against Atlanta on the schedule, and they're 1-2 against Pittsburgh, with three home games in late September to which they can look forward. Neither of those is a terrible problem, if the patterns continue. The more concerning issue is their records against their other division rivals, the Mets, and especially the Marlins. They're 5-8 against the Mets, with six more games to play against them, and 1-11(!) against Florida, with six more games. One and eleven. Ouch. Those trends, if they continue, would mean that the Phillies would lose roughly nine of the twelve remaining games against those teams, including 6 out of 7 against Florida, pushing them 5 games behind the Marlins for second place in the NL East, regardless of what they do against the rest of the league. So essentially, if the Phillies can't figure out a way to beat the Fish, they're done-for.

They would have to out-play Florida by at least five games, out of the remaining 54 on the schedule, not including the 6-out-of-7 we're assuming they'll lose to Florida, just to finish even with the Marlins. That would mean that if the Marlins only go a game over .500 in their remaining 53 games, which is not unreasonable to assume, the Phillies would have to go 33-21, winning over 60% of their remaining games, just to finish in a TIE with the Marlins for second place, with 85 wins, which likely will not be enough to win the Wild Card, much less the division. And it's not as though the Phils' schedule is kind to them down the stretch. More than half of their remaining games are against teams with .500 rtecords or better, and another 18 are against the Brewers, Reds, Pirates and Mets, none of whom will just roll over for Philadelphia. The only bonafide patsies left on their schedule, Colorado and Montreal, total merely ten of their remaining 60 games. The Marlins' schedule isn't easy either, but they do have ten games in which they can beat up on Montreal, plus another six against the Rockies and Diamondbacks (with or without Randy Johnson) combined. And of course, history seems to indicate that the Phillies also become patsies when they play Florida. I wonder why?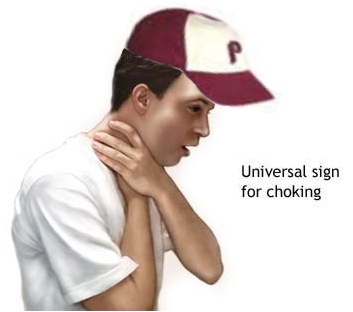 Perhaps we'll never know...




Speaking of Silly Things on Which to Spend $8 million...

Francisco Cordero?!

A two year, $8 million contract extension with an option for $6 million if he's still the closer in 2007.

He's not terrible or anything, he's actually pretty good, but he also almost thirty years old, and has exactly one full, healthy season in his career with an ERA under 5.00. Granted, he's done OK for himself this year as the Rangers' closer, saving 30 games in 32 opportunities, but last year he was just 15 for 25, blowing ten saves, and he's consistently walked a batter about every other inning or so throughout his career, including 2004. What makes them think he won't go back to blowing saves next season, or even this season?

If he's still an "effective" closer, I guess $4 million a season isn't a bad deal, but if it goes sour, it's deals like this one, (and Jay Powell's, and Jeff Zimmerman's and Chan Ho Park's and Rusty Greer's...), overvaluing a few good months, that has kept the Rangers from being competitive for so long, not the one they gave Alex Rodriguez.

_+_+_+_+_+_+_+_+_+_+_+_+_+_+_+_+_+_+_+_

Well, here's hoping that something interesting happens to Randy Johnson over the weekend, so I'll have something to write about.