What else can go wrong for the Orioles?

Still reeling from an 8-18 July that helped their half-game division lead turn into an eight game deficit and a fourth place standing a month later, Baltimore had something else to cry about on Sunday.

Orioles DH/1B and presumably first-ballot Hall of Famer Rafael Palmeiro was suspended yesterday for testing positive for one of the banned substances in MLB's new drug policy. Palmeiro did not indicate in his press conference that he failed the test due to cough syrup or diet pills, so we are left to presume that it was some kind of steroid for which his ten-day suspension was levied.




Palmeiro had denied, before the United States Congress and the literally millions of baseball fans who had tuned into see the hearings or watched them replayed on SportsCenter like so many fielding bloopers, ever having used steroids. He defiantly pointed his finger at the committee and stated emphatically that he had never used steroids. That story had changed only slightly yesterday, to say that he had never intentionally used steroids.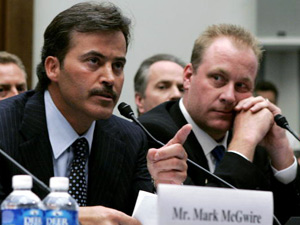 This does not leave us with many viable possibilities.

1) Palmeiro is telling the truth. He had not ever used steroids previously and did not do so on purpose this year. The steroids got into his body because they were in his Ovaltine and he didn't realize it. He's really sorry and he's switching to Qwik.

B) Palmeiro is stupid, but honest. He had never previously used steroids at all, but this year, knowing that there was a new testing policy and that there had already been several players suspended for testing positive for something they bought at a GNC nutrition store, he used some kind of supplement that was banned without thoroughly researching it.

iii) Palmeiro is really stupid, and lying. He had never previously used steroids, when they never did any testing and they weren't banned, but he decided to start taking them this year, under a newly-formed, much more rigorous, random testing policy, knowing that he could now actually get in trouble for it.

IV) Palmeiro is lying now, and he lied to Congress in March. But he's smart. He used steroids before, and he kept using them, or changed his dosage or patterns in hopes of avoiding detection. He figured that even if he got caught he would only lose 10 days (not even ten games) the first time, and probably wouldn't get tested again this season.

That last one seems to make the most sense.

Palmeiro was forced to appear before Congress because he was subpoenaed, and he was subpoenaed because he was accused, in Jose Canseco's book Juiced, of using steroids. Indeed, Canseco attests to having injected Palmeiro with steroids and Human Growth Hormone personally, as well as to showing Raffy how to do this himself.




In this particular case, the numbers seem to bear out Jose's testimony. Canseco was traded on 31 August 1992 was traded by the Oakland Athletics to the Texas Rangers for Ruben Sierra, Jeff Russell, Bobby Witt, and cash, according to BaseballReference.com. Before the trade, Palmeiro had hit a pedestrian .259/.333/.402, with 15 homers and 20 doubles in 513 at-bats, striking out 72 times compared to 57 walks. After the trade, Raffy ripped up the American League to the tune of .316/.409/.611, with 7 homers and 7 doubles in only 95 at-bats, and now walking more than he struck out.

Certainly, this is not definitive proof that Palmeiro started regularly visiting the the Canseco Clinic, as Jose had said. Steroids are supposed to take a few weeks to start to have an effect, and box score data from Retrosheet.org seems to indicate that Palmeiro was hitting better and for more power within a few days of Canseco's arrival in Texas. But it is evidence.

That was not even the best month of Palmeiro's career, as he had hit .390/.456/.710 with eight homers in 100 at-bats in July 1991, without the help of steroids or at least without the help of Jose Canseco.

It could be argued, I suppose, that it was not Canseco's presence behind Palmeiro in the locker room stall, injecting nasty concoctions into Raffy's rump that made the difference, but rather Jose's presence behind Palmeiro in the lineup, injecting fear into opposing pitchers and affording Palmeiro some protection he did not have the rest of the season. This theory also breaks down though, as Palmeiro only hit in front of Canseco 12 times in the Rangers' remaining 27 games, and did not hit appreciably better with Canseco behind him than he did with the likes of Juan Gonzalez, Dean Palmer or Ivan Rodriguez following him in the batting order.

The real evidence, though, comes after the 1992 season. To that point in his career, Palmeiro had been a good-average, little-power hitter, despite starting his career in one of the better hitters' parks in baseball, Wrigley Field. After having never previously hit more than 26 homers in a season, he suddenly hit 37 in 1993. After having totaled 28 stolen bases and being caught 17 times in almost 900 career games to that point, Raffy swiped 22 of 25 in '93. He had 95 homers in 3270 career at-bats at the end of the 1992 season, and a career .457 slugging percentage. His most comparable players by age were:


Age    Player
26     Al Oliver
27     Darin Erstad
28     John Olerud
Decent players, who hit for average but not power. Nobody will be petitioning the Veterans Committee to let any of them into Cooperstown if they're not elected in their first 15 years of eligibility, you know?
But from 1993 until now? Holy cow. After reaching an age at which most players tend to plateau for about four or five years, Palmeiro kept climbing the mountain. He has hit 474 homers and slugged .542 since the start of the 1993 season, and is still padding his stats and helping his team to win. His comparable players since that age include Billy Williams, Orlando Cepeda, Jeff Bagwell and Eddie Murray, all current or future Cooperstown cronies.
Palmeiro has worked his way into an elite group of players. He's one of only four guys in baseball history to amass 3,000 hits and 500 homers, and with 584 doubles and counting, he stands a good chance to soon be one of only two players with 600 doubles to boot, along with
Hammerin' Hank
.
Whether or not steroids helped him to do that, he still belongs in the Hall of Fame when he's eligible. There were no rules against steroids in baseball until recently, and even with the acknowledgement that steroids were a major factor in his success, he still had to do what he did. There are literally thousands of baseball players who had access to the same chemicals made available to Palmeiro who did not do what he did. That doesn't mean that we necessarily give him the same respect we would give to Hank Aaron or Willie Mays, but he gets a little more than
Lenny Harris
, don't you think?