Mike Mussina gave the New York Yankees exactly what they needed Saturday afternoon: a rest.

No, not a day off. They still had to play. But the offense didn't have to score 12 runs to win. Joe Torre and/or Mel Stottlemyre didn't have to walk out to the mound every other inning to make a pitching change. The bullpen didn't have to pitch perfect ball for four innings just to give them a chance at a 'W'. And the players didn't have to retreat to the clubhouse after the game only to be accosted by an army of reporters asking them exactly how ashamed they are to be the worst team ever to make $200 million.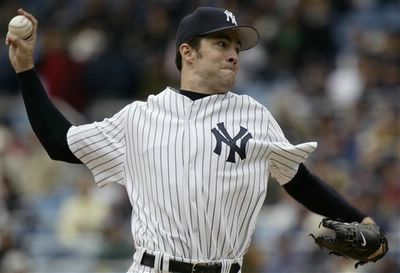 Moose



Everybody (except Moose, of course) got a nice little respite from the problems that have ailed them for the last month and change. Which is convenient because Kevin Brown is pitching tomorrow. Hopefully past, say, the third inning. But let's not think about that now.

Mussina had something of an "off" year for him in 2004, failing to pitch at least 200 innings in a non-strike year for the first time since 1993. Technically, his 164 innings were enough to qualify for the ERA title, but, well, let's just say that his 4.59 ERA (his highest since 1996) wasn't. He missed more than a month with some injury or another, and wasn't so great when he did pitch. Until today, 2005 wasn't looking like a particularly memorable campaign either, but a 4-hit shutout will help make almost anyone's stats look a little better.

This marked the first complete game shutout the Yankees have pitched since August 17, 2003, also by Mussina. But that shutout, 3 hits, no walks, 9 strikeouts in 121 pitches, seems like a wholly different animal from today's event. Mussina allowed only 4 hits today, but he walked two batters as well and only struck out three, hardly blowing anyone away. While I didn't hear a lot of the broadcast, it seems from the discussion I did hear between the Yankee commentators that Mussina's velocity had been up a bit, which is just about the only place it can go from the paltry 86 mph he'd been getting on his heater.

As a Yankee fan, I certainly love the fact that Mussina seems to be coming around. Including today's start, this makes three outings in a row in which he's pitched seven innings or more, and he's allowed only two runs in his last two starts, totaling 16 innings. Not to take too much away from him, but it must be said that these two starts came against the Tampa Bay Devil Rays and the Oakland Athletics. The Athletics currently sit #27 of the 30 MLB teams in total runs scored, and the D-Rays have averaged 7.33 runs per game against the Yankees, while scoring just over four per game against the rest of the field, so don't read too much into two good starts.

Something else that should at least be considered is the fact that Moose had to throw 131 pitches to get the shutout, whereas Torre could easily have replaced him with Mike Stanton or Tom Gordon when he got into some trouble in the ninth. Those 131 pitches were the most he'd thrown since August 6th of 2002, a 7-inning, 14-hit, 5-run losing performance against Kansas City. His next start? Six innings, eleven hits, four runs.

If this outing eventually proves to be the precursor to injury and/or more inneffectiveness for Mussina, Torre's gonna have a lot of 'splainin to do. Is it really necessary to risk injury to a star pitcher's arm for a minor statistical accomplishment that didn't even have anything to do with the win, especially against another bad team in early May?

After this weekend, The Boss won't be nearly as distracted by his horse being the favorite in the Kentucky Derby, though if this game isn't a harbinger of better times for the Bronx Bombers, Torre may finally have the free time he's always wanted to attend the Kentucky Derby in person.