Don't look now, but the Yankees have won two of their last three games! That's 67%! Woo-hoo!

They've scored 32 runs in their last three games. Of course, scoring 11 runs against the Blow Jays isn't really all that special. This is the team whose first two pitchers in their Monday game against the Red Sox were named "Bush" and "League". Honest. You could look it up.

Yankees hitters are currently combining for a .282/.369/.446 line, or an .814 OPS, almost exactly the same as the .811 OPS they put up in 2004, which helped them score 897 runs, second only to the Red Sox in all of MLB. The Yanks have scored 85 runs so far in 2005, good for 4th in the majors. If Tino Martinez (hitting .225) and Tony Womack (.245) don't start producing, it does not seem like the team will be able to maintain this pace, but at least for now the hitters have largely done their jobs.

Unfortunately, the rest of the Yankees' schedule has resulted in a 4-8 record, so their totals are not so impressive. To find out why, you need look no further than the pitching staff.

Ugh. On second thought, maybe you shouldn't look...it's too gruesome. An .843 OPS against and a 5.19 ERA, 23rd among the 30 MLB teams. Before yesterday they were 29th, ahead of only Colorado, which isn't saying much. The chief culprits have been...well, everybody, at some point or another, but the starters are mostly to blame. While racking up roughly 2/3 of the team's innings, Yankee starters have combined for a 5.48 ERA, better than only Tampa Bay and Colorado. Though they're only 1-3 between them, tonight's starter Mike Mussina and last night's winner Carl Pavano have a reasonably respectable 3.49 ERA. Before getting his first win last night, Pavano was on the verge of being run out of town, if not for the fact that the Yanks weren't in town. Yankee fans don't like to see a big-name free agent catch go winless in three starts to begin the season, especially after signing a $39 million contract over the winter. Last night's 8-inning, 2-run, no-walk performance seems to have bought him some time on the scheduled lynching.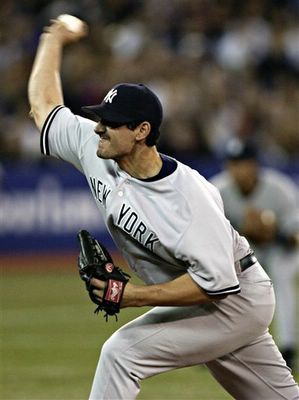 Pavano



The remaining starters, Kevin Brown, Randy Johnson and Jaret Wright, have combined for a technically mediocre 3-3 record, which belied the fact that they have been pasted for an abysmal 7.14 ERA combined, including 10 homers in under 47 innings. If they don't get their respective acts together, they may not win more than the three games they've gotten credit for already.