Let me introduce you to two pitchers:


	GS  QS  CG   IP   H    R  HR  BB   SO   K/9  WHIP   BAA   ERA
M1	22  12   0  130  134  69  26  48  105  7.27  1.40  .265  4.64
M2	22  13   0  135  144  77  14  47  116  7.73  1.41  .272  4.80
Amazingly similar, no? They have pitched the same number of games, but Mr. M2 has pitched a handful more innings, allowed significantly fewer homers, struck out a few more batters, allowed almost exactly the same amount of baserunners per inning (WHIP), one more Quality Start, but also a handful more earned runs. Overall, it looks as though Mr. M2 is a slightly better pitcher, with perhaps slightly worse luck on batted balls in-play.
At worst
, you might say that Mr. M1 and Mr. M2 are about dead even, wouldn't you?
If you didn't already know, M1 is Eric Milton, and M2 is Kevin Millwood, both Phillies' pitchers, both making a
lot
of money in 2004, and both free agents at the end of the year. They are, over the course of the season, pitching almost exactly as well as each other. Millwood has slight edges in the strikeout and walk rates, and a major edge in the home run rate, while Milton has only a slight edge in ERA.
Milton also holds a significant edge over Millwood in not garnering embarassing headlines from the Philly sportswriters:
Kevin Millwood


Trade talk swirls around Millwood, Polanco
Millwood provides inside info on his home-park woes
Tonight, Millwood must pitch in
Millwood Wins for a Change
Latest failure against Braves has Millwood at a loss
It's a Brave, old world for Millwood
Compared to: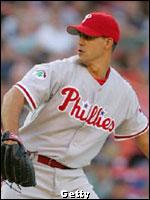 Eric Milton

Milton hunting for extension
Abreu, Milton make their case as Phils beat O's
Spurned Milton hitting the high seas
These were all found in the archives of
Philly.com
, and I could probably find more with a little effort. (The last two headlines have to do with Eric Milton trying to make a case for himself as an All-Star, and then making other plans when he was not selected to the team, supposedly "spurned" by NL All-Star manager Jack McKeon.) Worse yet, if you read beyond the headlines, you'd see that the Philadelphia beat writers have criticized Millwood's character, his "gumption" and other such qualities, given him grief for making too much money ($11 million this year), and God only knows what else. Milton, however, despite pitching no better than Millwood, and making $9 million this year
So why the difference in he response of the Philly writers? Why do they love Milton but downgrade Millwood at every opportunity? Why such a disdain for one pitcher and such adoration for another, given that their performances have nearly equated each other this season?
Well, let me add one more, tiny, little factor to the equation:
	 W  L
M1	11  2
M2	 9  6
Oh.
That's
why.
Ultimately, it still comes down to wins and losses in baseball, and Eric Milton has had the good fortune to be on the mound for eleven of those wins this season, and to suffer through only two losses, and the team is 16-6 in his starts overall. Kevin Millwood, at the same time, has suffered six losses, and only nine wins, with the Phils not Phightin' quite so hard in his starts, going only 12-10 in his games he pitched. The team has averaged 6.85 runs in games Milton has started, more than every pitcher in the National league save two, Kaz Ishii and Shawn Estes. Millwood has gotten 5.20 runs per game of help from his teammates, still a decent number, but clearly not the love his teammate enjoys from the offense.
So the stain of losing is etched on the minds of Philly Phans and writers quite a bit more often in Millwood's starts than in Milton's. Most people still look to the pitcher, on whom the "W" or "L" is hung by the media and statisticians, and (often inappropriately) give him credit for winning or losing the game. Even if he gives up seven runs in five innings, but the team
scores 17 to bail him out
. Or if he allows
no runs in seven innings
, but his team loses because they can't muster up more than one run and the bullpen blows the save.
And the strain of losing is taking its toll on the team and on the City. Oh, and on the manager:
Larry Bowa is snorting mad

Larry Bowa
, never a model of stoicism or calm self-assurance, has even more reason to rant & rave, to pace and race, to stare and swear and sneer from the dugout as his Phillies tighten their grasp on...their own necks. I mentioned in an earlier
article
that the Phils would probably need to play at least .600 ball over the last two months of the season just to end up in a potential tie with Florida for the Wild Card. Well, it's worth noting that the last time the Phils won over 60% of their games for two consecutive months was in
2001, in April and May
.
They were 34-18 at the end of May 2001, sitting comfortably atop the NL East at the time, and then didn't have another winning month all year, finishing two games behind (guess who!) Atlanta for the NL East division title and seven games behind the Wild Card leader. In 2002 they charged back from a dismal April to be three games over .500 by the end of August, only to go 12-15 in September and finish behinf the Expos for 3rd place. Last year they were 60-47 at the end of July, but they staggered to a 26-29 record over the last two months, to finish, again, in third place, five games behind the Wild Card and eventual World Series winning Marlins.
So, as anyone from the Philadelphia area could tell you, the Phils have a habit of choking down the stretch, just as they famously did in
1964 (the ten-game Phold
), and in the 1950, 1983 and 1993 World Series, and four other playoff appearances. ANd pretty much any time they face the
Marlins
.
So if the 2004 Phillies are to win anything besides the ire of their Phans (and let's be honest here, they're gonna get that either way), both Millwood and Milton are going to need to step up and pitch like guys making a combined $20 million. And their teammates are going to ahve to step up to support both of them, not just Milton. If not, Bowa is sure to be fired, the Phillies will be out $20 mil, and two more 'Mil's will likely not be re-signed this winter.