Boy, was that a lot of fun! Who says a two-game series isn't worth the effort?

One night after losing in unlikely and dramatic fashion to the Texas Rangers, the New York Yankees won a game in even more dramatic, if not precisely unusual fashion. Coming back from a 5-run deficit, the Yankees managed to beat one of their their likely postseason foes by a score of 7-6 in Arlington, on a night that still reached well above 90 degrees Fahrenheit by the time the game ended, around 11PM Central time.

I say that the 4-3 loss was unusual not because the "L" went on Mariano Rivera's record. He's got 54 losses now in his career, an average of about four per season. These things happen. I say it was unusual because nothing worked for Mariano that night, and that is rare. It had been almost 40 months since Mariano Rivera had faced four or more batters in a single outing without getting more than one of them out. And at that time, the event had people calling for his resignation, wondering whether he was washed up.




This was not such an occasion. With the Yankees and Rangers tied, 3-3, Joe Girardi brought in his best reliever to assure that his team had its best chance of staying in the game, rather than holding him back for a save situation that may never arise, and he deserves credit for that. Too few managers take such an approach, and pay for it with losses.

As it happens, Joe paid for his good decision with a decidedly bad outcome, but you can't blame him, really, and while you can technically blame Rivera, he was a lot closer than the boxscore would suggest to escaping that 10th inning unscathed. Rivera induced a grounder to shortstop, but it was a hard grounder to deep short, and even Derek Jeter's legendary cannon arm could not nail Michael Young at first base.

That brought league leading hitter Josh Hamilton to the plate. Rivera induced another infield grounder, but this too was hit rather hard and eluded both firstbaseman Lance Berkman and Young, the runner, and ended up in right field. Vlad Guerrero dutifully grounded out to third base for the only out Rivera would record, the runners ending up on second and third with one out.

That meant that they could walk Nelson Cruz - hitting .315 overall, .347 at home and .374 with runners in scoring position - to pitch to David Murphy, hitting just .271 overall, .281 at home and .235 with RISP. Seemed like the safer bet, even with the bases now loaded and only one out. The trouble was that they would have needed a double play to get out of the inning, and you couldn't really count on that.

So they brought the infield in, to cut down the runner at home. Perhaps it wasn't a great bet, but they had to try it, right? Though it seems to me I've seen this tactic employed successfully against the Yankees somewhere before...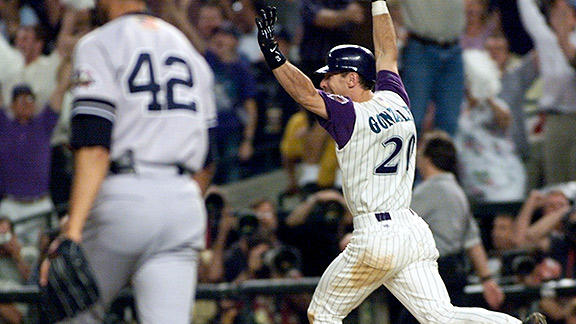 No matter. Anyway, the problem was that all Murphy had to do was fist a ball over the infielders' heads and the game was over.

And so it was.

A couple of hard hit grounders, an intentional walk, a bloop single, and that was the ballgame. A great deal of fun to watch, even in a loss, as it was really a nail-biter all the way.

But Wednesday night's game, the 7-6 win for New York, was even more fun, and not just because my team won it. To begin with, the Yankees started Javier Vazquez against the Rangers' Cliff Lee, who would have supplanted Javy in the rotation if they'd been able to complete the trade everyone was expecting about a month ago. I had recently opined that Lee would have been an improvement on Vazquez, but not a sufficiently large one to justify all the talent they would have had to surrender, so for me this matchup was particularly compelling.

Granted, Vazquez has complained of a "dead arm" of late, and was not exactly stellar in this outing. He started by surrendering perhaps the cheapest home run in history - a bloop fly off righty hitting Michael Young's bat that just skimmed the right side of the right field foul pole, about six feet above the wall - to put the Rangers up, 1-0.


Lee had allowed a leadoff single to Derek Jeter, then retired 10 straight, including four strikeouts, before a Marcus Thames single and an Alex Rodriguez double evened the score at one run apiece. It stayed like that until the fourth, when Vazquez allowed a leadoff double to Josh Hamilton, got two outs, but then intentionally walked David Murphy and unintentionally walked Bengie Molina, who only draws an unintentional walk about once every five games, on average, so maybe that should have been a sign that Vazquez was losing his touch. In any case, rookie Mitch Moreland singled home two runs, and the Yankees were down, 3-1, though Vazquez got out of the 4th without further damage to his ERA or the Yankees' chances for victory.

Lee kept the Yankee bats at bay in the top of the fifth, bring his total tally to seven strikeouts in five innings, but in the bottom of the fifth, things really went to pot for Vazquez. He allowed solid singles to Elvis Andrus and Michael Young, and a double to Hamilton that plated Andrus, making it 4-1. He did finally record a couple of ground balls, but the second of these resulted in a botched rundown of Mike Young at third base.

That's right: Somehow Jorge Posada, Jeter and A-Rod - with a combined six Gold Glove Awards, three MVP awards and 16 more top-10 finishes in the voting and 29 All Star Games - could not figure out a way to tag Michael Young before he got back to third base safely, which left the bases loaded for David Murphy. Vazquez allowed a double to Murphy that scored Hamilton and Young, making it 6-1 Texas and ending Javy's night.

Sergio Mitre - who like cod liver oil and iocane powder is best taken in small doses (he has a 2.49 ERA as a reliever, 5.93 as a starter) - came in to relieve and actually did his job. He got Bengie to hit a pop fly to short right field, which Nick Swisher caught on a run and instantly threw to third to try to catch Nelson Cruz trying to get to within 90 feet of home plate.




He didn't make it.

Granted, they were up by five runs and Cliff Lee was pitching about as well as anyone ever has, so maybe it was worth the risk, but of course it turns out that perhaps they could have used an extra run later, and they missed an opportunity.

The game went through waves of being variably exciting, but even when the Yankees went down 6-1 in the fifth inning, it never felt like they were out of it.

In the 6th inning, Jeter led off with a triple, badly played off the right field wall by Cruz, and then scored on a 3-2 wild pitch that Bengie Molina would likely have blocked five years ago, making it 6-2. Lee, evidently feeling that he could rely on nobody but himself, promptly struck out the next three batters on 10 more pitches.

After an uneventful bottom of the 6th for Sergio Mitre, the Yankees came out to bat in the top of the 7th, at which point Lee's dominance of them abandoned him. Robinson Cano turned on an 0-2 pitch for a double, and though Jorge Posada racked up his third whiff of the night, the two newest Yankees, Austin Kearns and Lance Berkman, hit a single and an RBI double, respectively, to make it 6-3.

Then Brett Gardner singled up the middle, plating another run, sending Berkman to third and effectively ending Cliff Lee's night, only the second time all season that Lee has not lasted through the seventh inning. Darren O'Day (oDAYoDAYoDAY...) relieved and though he did allow Gardner to steal second base, he also struck out Jeter. Ancient LOOGy Darren Oliver fanned Nick Swisher (who would strike out four times in a dismal 0-5 performance) to end the threat.

In the bottom of the frame, another new Yankee took the mound, as Kerry Wood pitched against Mike Young and got him to fly out. Josh Hamilton then strode to the plate again - I'm pretty sure he has some kind of special clause in his contract that allows him to bat 4,237 times per game - and rapped a hard single again - not because of his contract, just because he's that good. The man came into the series hitting .355 and actually increased his batting average by two points, no easy feat.

When the aging and increasingly immobile Vlad Guerrero also singled I thought Wood might get yanked soon, but he buckled down and got an inning-ending double play by Nelson Cruz, Jeter-to-Cano-to-Berkman, to end the threat and maintain the 6-4 score.

Leading off the 8th against Frank Francisco, who throws a pretty mean folding chair but evidently doesn't have what you'd call "pinpoint control" with you know, baseballs. Marcus Thames made the most of batting in Mark Teixiera's spot in the lineup by hitting a solo homer to put the game within one run, 6-5.

A-Rod whiffed on a splitter, but then Francisco walked Cano and Posada before having pitching coach Mike Maddux visit the mound, evidently to remind him that he's supposed to be retiring batters. This prompted an inning ending double play by Kearns and gave the Rangers a chance to pad their lead against the Yankees' questionable middle relief corps.

But it was not to be. Kerry Wood pitched a second inning, and though he walked a batter, threw a wild pitch that allowed the runner to advance to scoring position and went to full counts on three of the four batters he faced, nobody actually scored a run, which is the main thing, after all.

That meant that rookie flamethrower Neftali Feliz would face the bottom of the Yankee lineup in the ninth. Feliz can throw close to 100 mph, and has a nasty slider to boot. He's been pretty darn good this year, and in a season with fewer impressive rookies, might have taken away the Rookie of the Year award.

More important, he had just pitched two scoreless innings against the Yankees the night before to get the Win, and had done the same in the only other appearance he had against the Yankees, in August of 2009. Moreover, he was still throwing 98 mph when he entered on this night, but alas, not with his usual control.

He walked Lance Berkman, who admittedly walks a lot anyway, but of course does not run worth a damn anymore. Curtis Granderson ran in his stead, and went to second base when Brett Gardner singled to left. That prompted a coaching visit to the mound, perhaps to get Feliz to settle down, to remind him of the success he's had against the Yankees in the past, or perhaps just to get his take on whether that blonde in the stands behind third base might be available.

Whatever they talked about, it didn't seem to work, as Feliz quickly went to 2-0 on Derek Jeter. Granderson's speed came in handy when Feliz threw a pitch over the catcher's head, bouncing off the wall behind home plate and back to Bengie Molina, but not in time to nail Curtis at third base. Berkman would have been out by a mile. Jeter then slapped the next offering - one of his textbook, inside-out singles - into right field to score a run and tie the game, sending the fleet footed Gardner to third.

Feliz went to mostly sliders instead of fastballs against Nick Swisher, who couldn't do anything with such a diet and retired on strikes for the fourth time that night. That ended Neftali's night and brought in another rookie fireballer, Alexi Ogando, who quickly worked the count to 0-2 against Marcus Thames with straight heat. But Thames was prepared for the slider, smacking a grounder through the left side to score Jeter and give the Yankees the lead, 7-6. Ogando then struck out Alex Rodriguez on eight pitches but needed only four to sit Robinson Cano back down, and the inning was over.

That meant that Mariano Rivera would get a chance to redeem himself for the previous night's loss. His outing did not begin well, as he allowed Elvis Andrus a leadoff triple to right field. That patrol, thanks to the Granderson substitution, was now manned by Austin Kearns, who had been assigned to left field all night and isn't much of a flycatcher anyway.

Still, he caught Mike Young's fly ball to right, which brought Josh Hamilton to the plate as the go-ahead run and with the tying run only 90 feet away. (See? I told you he comes to the plate a lot!) Rivera went to 2-0 on Hamilton and things started looking bleak, but Josh grounded back to Rivera, who calmly looked Andrus back to third base and then threw to Swisher at first for the second out. Vlad Guerrero then grounded to Rodriguez to end the game and salvage a tie in this brief but action packed series.

Of note:


This brings the Yankees 2010 record against the Rangers to 4-1, a good sign for them as they may face Texas at some point in the playoffs, though they've got another three-game series in Arlington in mid-September. Two of the other three losses came against starting pitchers (Rich Harden, who's on the DL, and Scott Feldman) who are no longer starting for the Rangers, so clearly this is not the same Ranger team the Yankees swept at home in mid-April.
This was only the second time in Yankee history, as far as I can tell, that they've managed to win a game in which they struck out at least 15 times. The other time was in August of 1997, when they beat the Mariners 10-8 in Seattle while fanning 16 times. Among Yankees, only Jeter, Posada and Rivera remain from that game. A-Rod is the only other player from either side of that game who's still in the majors, though there are a few others from the rosters who are still around.

That game also happened to include Mariano's 8th Blown Save of the season, a number he's never duplicated since. At the time, Joe Girardi was catching for the Yankees and Mike Maddux, now the Rangers' pitching coach, was pitching for Seattle. Kerry Wood was walking almost a batter per inning at AAA Iowa, and Andrus and Feliz were both 9-year olds in the Dominican Republic. Darren Oliver was -wait for it - pitching for the Texas Rangers. Some things never change.